Welcome to the Heard & Smith, L.L.P. website. Our law firm concentrates on the needs of the elderly, the disabled and the injured. We believe that every client deserves qualified and affordable legal representation. We are a San Antonio based law firm serving clients throughout Texas, including Corpus Christi, El Paso, Houston, Dallas, McAllen, San Antonio, Fort Worth, and Austin.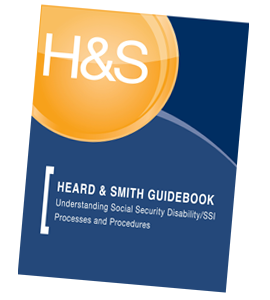 Download our no cost Social Security Disability Guidebook by clicking here or on the book's cover.

Call us today in San Antonio at (210) 820-3737, toll free at (800) 584-3700, contact us via our online form , or visit our office locations page to find the local office number for your area. Our Texas lawyers have experience in a variety of practice areas, including:
Heard & Smith's social security disability attorneys have been helping clients obtain social security disability (SSDI) benefits for more than 30 years. We are also ready to meet your complete estate planning and probate needs. Our probate lawyers can help you decide how to fulfill your commitment to your incapacitated loved ones.
One of the ways in which we achieve success for our clients is a strong commitment to communication. Whether we communicate by phone, email or by personal visit, we make it easy for our clients to reach us. Our lawyers believe that prompt and easy communication is critical to understanding and responding to client needs. A client's concerns always receive the full attention of our attorneys. We know that our clients must have complete confidence that their legal matters are being handled with the attention they deserve.
Heard & Smith's social security disability attorneys, and estate planning lawyers work hard at effectively serving the people who need our help. We offer accessible and affordable legal services. All fees are quoted in advance and details regarding our fees are available on this website.
We designed this website to provide practical and useful legal information. Please take a moment to explore our website and get to know our lawyers, our areas of practice and the ways in which we can serve you. We hope you will find it useful. Our main location is in San Antonio but we serve clients throughout Texas. If you have any questions, or would like more information, please call us at (210) 820-3737, toll free at (800) 584-3700, or contact us via our online form.